Welcome to Larry Strickland's fine art website. Although fine art collectors throughout the world acquire Larry's work, the purpose of this website is to give everyone the opportunity to view and purchase his work. To order his works or to commission artwork, simply contact Larry by phone or e-mail.

Larry specializes in landscapes of the southern United States, with series depicting the history, life, and cities of The Deep South. Cities he has portrayedin his paintings include New orleans, LA; Birmingham, AL; and Pensacola, FL. You'll see some of these series on the "Prints"and "Acrylics" pages of this website.

Larry is especially well-known for the vivid reflections shown in his paintings and for the unique watercolor effect in both his oils and acrylics. He is also known for his poignant and inspirational sculptures and other works in wood, bronze, marble, and stone. Larry welcomes the opportunity to create religious art, such as "The Stations of the Cross" created for Saint Mary's Episcopal Church in Andalusia, Alabama.

Although Larry has traveled extensively throughout the United States to show his works, he now exhibits his art in one place-- the Stateline Mini Mall located in Florala, Alabama, the town where he spent his childhood. Since the photos shown on this website cannot do justice to Larry Strickland's magnificent artwork, we hope this opportunity to view photos of his work may inspire you to travel to the quaint town of Florala, Alabama, to view all of his work. If you are a collector of fine art, you'll definitely want to view his work in person and add it to your personal collection. Only by viewing it in person can you fully experience and appreciate the wonderful charm and originality of the work of this truly gifted artist.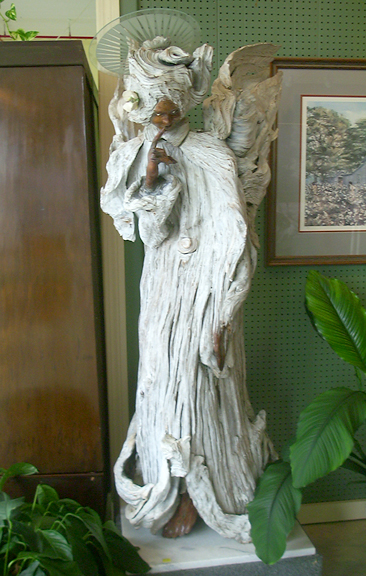 One of Larry's Angelic
Creations In Wood